We're here for you.
We are a pro-life Obstetrics and Gynecology medical practice, dedicated to you and your individual needs.
Our Services
We offer comprehensive OB/GYN services from adolescent to menopausal health and everything in between, providing you with personalized treatment and respect in your care.
NEWS & EVENTS
Transitioning early next year…
Tepeyac OB/GYN is thrilled to announce our new partnership with
StoneSprings Hospital Center
24440 Stone Springs Blvd., Dulles, VA 20166
This new affiliation marks a significant milestone in our continuing commitment to provide you with the highest quality of pro-life medical care. With the addition of a third midwife in January, we are excited to offer an expanded midwifery service. This midwife-based approach will continue to allow close collaboration with our physicians. Our dedicated team of skilled midwives will provide personalized, holistic, and woman-centered care.
At your next pre-natal appointment, please discuss your delivery plan with your provider. You will also receive a packet of information highlighting StoneSprings Hospital Center's state-of the art facility, with tubs in most of their private-room birthing suites.
We understand that change can be both exciting and challenging, but we are dedicated to making this transition as seamless as possible for you.
Our team is committed to maintaining the high standards of care you have come to expect from us. We are truly grateful for your trust and partnership in your healthcare journey. We look forward to continuing to serve you at our new hospital location, delivering exceptional care with a fresh and innovative perspective.
Stay connected with us by following us on social media and on our website
for updates and details.
Thank you for being an integral part of our Tepeyac family!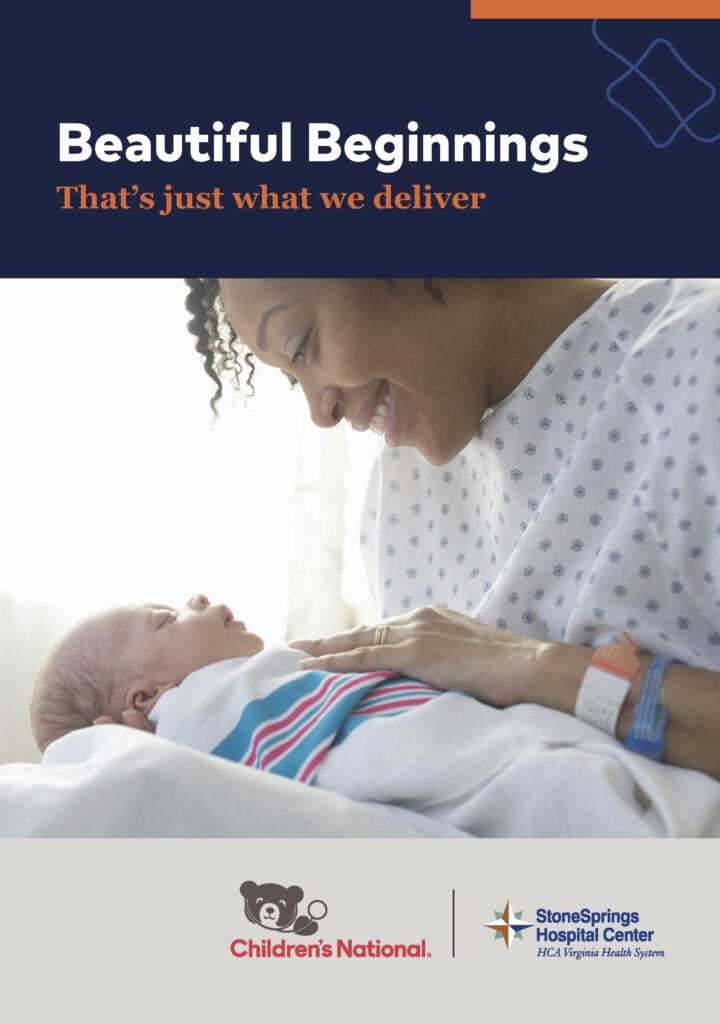 Transición a principios del próximo año…
Tepeyac OB/GYN se complace en anunciar nuestra nueva asociación
con StoneSprings Hospital Center
24440 Stone Springs Blvd., Dulles, VA 20166
Esta nueva afiliación marca un acontecimiento importante en nuestro compromiso continuo de brindarle la más alta calidad de atención médica pro-vida. Con la incorporación de una tercera partera en Enero, estamos entusiasmados de ofrecer un servicio de parteras ampliado. Este enfoque basado en la partera continuará permitiendo una estrecha colaboración con nuestros Doctores. Nuestro equipo dedicado de parteras calificadas brindará atención personalizada, integral y centrada en la mujer.
En su próxima cita prenatal, hable con su proveedor sobre su plan de parto. También recibirá un paquete completo de información que destaca las instalaciones de StoneSprings Hospital Center, con bañeras en casi todos los cuartos de parto de habitaciones privadas.
Entendemos que el cambio puede ser emocionante y desafiante a la vez, pero estamos dedicados a hacer que esta transición sea lo más fluida posible para usted.
Nuestro equipo está comprometido a mantener los altos estándares de atención que usted espera de nosotros. Estamos realmente agradecidos por su confianza y asociación en su viaje de atención médica. Esperamos continuar sirviéndole en nuestra nueva ubicación hospitalaria, brindando una atención excepcional con una perspectiva fresca e innovadora.
Mantente conectado con nosotros siguiéndonos en las redes sociales y www.tepeyacobgyn.com
para obtener actualizaciones y detalles.
¡Gracias por ser parte integral de nuestra familia Tepeyac!
"My husband and I just had our second child with Tepeyac. We could not have asked for better care from all of the doctors and nurses there. Know that they have your best interests and those of your child at heart! If you want doctors who care and listen to you, this is the best ob-gyn practice."
"Tepeyac is such a special place! You feel a sense of peace, trust & safety the minute you walk in the door. To have Drs. that will pray with you during your appt! Blessed to experience this environment."
"The best OB/GYNs I have gone to! They are compassionate, professional and excellent in their medical care… I came to Tepeyac from another practice after having experienced a miscarriage, and the difference in care I received was for me life changing."